Microsoft Azure managed by Touch Support allows your team to stay focused on the goals of your business and maintain control. Our dynamic cloud automation platform and our dedicated staff will provide exceptional support for your Azure workloads. Let us custom build a solution for your business that is priced specifically for you and the size of your operation. Ready for the Cloud? Trust Our Experts with Your Microsoft Cloud. Request a Quote to Get Started.
[caldera_form_modal id="CF5a6f4c2d7b5c1″ type="button"]Let's talk Microsoft Cloud[/caldera_form_modal]
Effectively Manage Azure Cloud
With Touch Support
Service Comes First
Becoming familiar with all that Azure has to offer can be complex. Let our expert staff handle the deployments. Our support staff guarantees that you will have:
Escalation to senior staff
Recurring and dependable updates
Accelerated ticket response time
Reduce Risk
Touch Support will act as your managed cloud security team and will provide everything from log management to operation system hardening. We will provide:
Complete managed security
Disaster recovery
Managed backups
Incident monitoring paired with a swift response time
Rapid Deployment
Leave any routine Azure maintenance to us. We will handle all of the routine work that is distracting you from focusing your time where it matters-building your business. Touch Support will complete any maintenance rapidly and without error. Here's an idea of what we can do for you:
Deploy VMs in minutes
Shift workloads between Azure and other clouds
Swiftly deploy large projects
Scale apps in seconds
Scale sites in seconds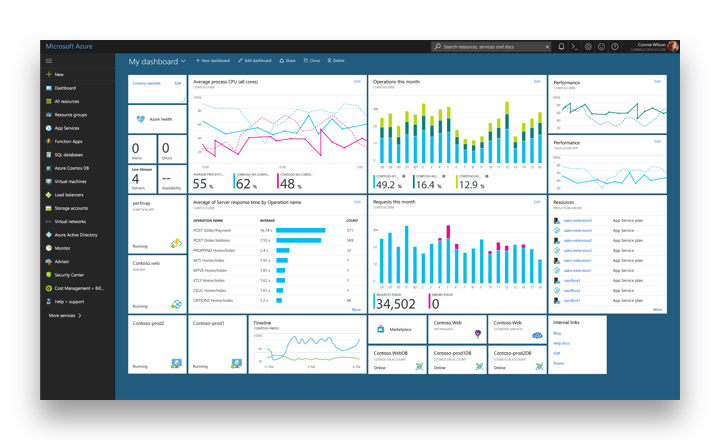 Enjoy the Power of Connection
Touch Support's flexible network paired with the scalability of Microsoft's Azure platform provides endless capabilities to utilize site-to- site VPNs for protected communication, balancing workloads and will drastically improve your IT applications.
Touch Support Managed Azure vs. Microsoft Support Plans
While creating an Azure VM is pretty simple, complexity builds as soon as services within those VMs need to be managed. What's more, Microsoft support can grow costly in a hurry and does not extend to the operating system. That's where we come in.
| | Touch Support | Azure Free | Azure Developer | Azure Standard | Azure Professional |
| --- | --- | --- | --- | --- | --- |
| Managed OS Hardening | | | | | |
| Monitoring (VM, OS, URL) | | | | | |
| Anti-Malware & Antivirus Protection | | | | | |
| OS-Layer File Integrity | | | | | |
| Log Management | | | | | |
| Expert Configuration | | | | | |
| Unlimited Server Administration | | | | | |
| OS Security Assessment | | | | | |
| Disaster Planning Architecture | | | | | |
| Monthly, Proactive Scheduled Maintenance | | | | | |
| Performance, Service & Web Monitoring | | | | | |
| OS Patching | | | | | |
| Fastest Response Time | 2 hours | < 8 hours | < 2 hours | < 1 hours | < 15 minutes |
| Performance, Service & Web Monitoring | | | | | |
| Email Support | | | | | |
| Phone Support | | | | Limited 3/month | |
| Software Firewall/Event Log Monitoring | | | | | |
| Offsite Backups | | | | | |
| Two-Factor Authentication | | | | | |
| Migration Services | | | | | |
| Azure Infrastructure Support | | | | | |