We consider customer support to be a vital element to any company's success, especially startups. In order to maintain a high level of efficiency when handling customer support, we suggest that startups look to specific digital support tools.
The following three tools, are our top suggestions for startups that are exploring what works best for them. All three have their pros & cons, and are all ultimately very powerful if used effectively. Although these are our top suggestions, we strongly advise that you do deeper research based off of your specific requirements, or contact one of our many talented team members.

PROS
This well rounded customer support tool is very feature rich and has proven to work with thousands of companies around the world. In fact, it is quite possibly the most popular tool on the market, with over 25,000 companies using it. It easily integrates with 3rd party applications, and features a customizable dashboard which will help you maintain focus on the day to day performance of your support team.
A huge benefit to Zendesk is the fact that it is optimized for mobile support. It is accessible via most mobile devices including iPhone, iPad, Android, Windows, and Kindle Fire. Finally, the analytics that Zendesk provides can be customized to provide various layers of data and insight. It provides data benchmarking for increased efficiency and customer satisfaction.
CONS
Despite the fact that Zendesk has been extremely beneficial for many companies, it is important to make note of a few of its cons, which may lessen its level of effectiveness for your business. If your team is on the smaller side, the process of using this application is a bit involved. It very much seems to be built for dedicated support teams on the larger side.
We were not very excited about the level of customer support available if issues do occur. Something that we would love to see implemented within their system, would be some form of knowledge-base available to someone submitting a ticket that may have previously been addressed or answered successfully.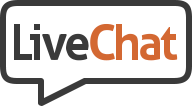 PROS
LiveChat inc provides a very elegant interface that is easy to use. The chat features are very effective and look great. Triggers, shortcuts, and chat protocols are all very simple to employ, and work perfectly.
Perhaps one of the best features is the LiveChat ticketing system, which helps distribute offline messages to  members of your team. This allows for support claims to be handled in a more organized and efficient manner.
In Addition to the very easy to use and effective platform,  LiveChat offers great customer support, and multiple price points. Various package options make it a strong choice for companies at different sizes.
CONS
Although there are companies that will truly benefit from LiveChat, it is not for everyone. If you do not have the staff available to operate this software, it won't be as effective as it could be. With this type of service in place, it makes it seem that you are available 24/7. Using LiveChat does not mean to you need to be available all day everyday, but if you don't have someone available during normal work hours to manage LiveChat, there are other support tools that may prove more effective.
DIY Email & Tagging
PROS
If you are working with a small volume of support claims and have a budget to consider, do-it-yourself may very well be the best route for you. No overhead needed, and perfect for anyone just getting started.
The process is as simple as creating your own email address _____@_____.com, and using your own organizational framework to tag and monitor the cases. Everyone's process is different, but you can use a folder tree system, spreadsheets, or even free apps like sparrow to get the work done effectively. The best part is that it is FREE!
CONS
With this system, it becomes impossible to tell the difference between opened and closed cases. Additionally, if you are dealing with more than 3 cases a day, it becomes very difficult to remain organized.
Additionally, we feel that it is very important to harness the powers and benefits of an issue tracking system, which is absent from a DIY system. Without a proper issue tracking system, it is not uncommon that important issues get lost in the system, employees and managers waste time getting organized, and management cannot keep a proper eye on the process as a whole.